We are dedicated to helping dogs be healthy and happy, which is why we are champions of fish as a tasty source of protein, perfect for their wellbeing. Our food is developed by experts to provide deliciously appetising, nutritionally balanced recipes to provide great, everyday feeding.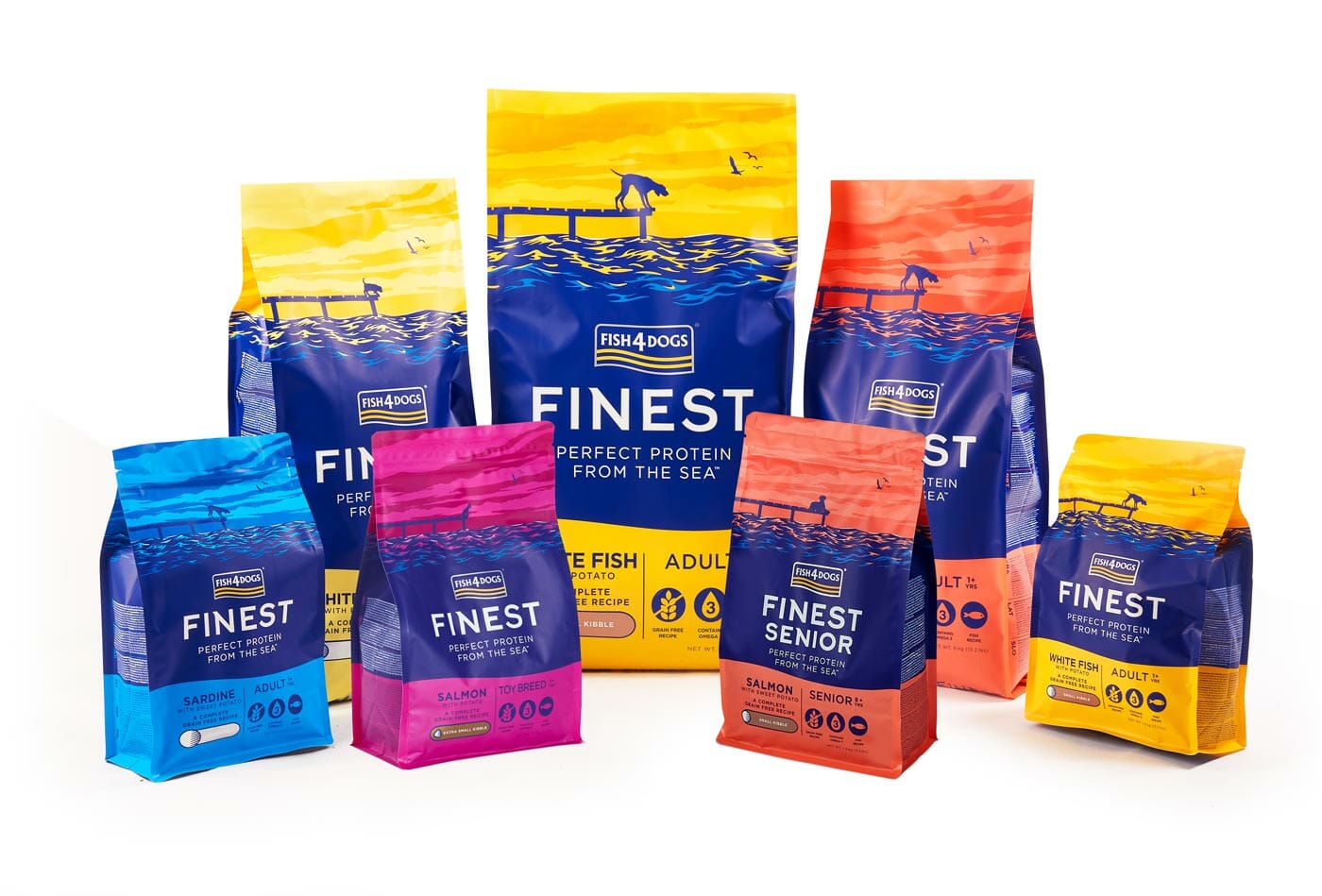 FINEST
COMPLETE RECIPES
The original Fish4Dogs range of food: simple, wholesome, tasty and grain free recipe. Made from fish, potato (or sweet potato) and pea recipes. Kibble and canned varieties available.
Available in Salmon, White Fish, Sardine, Toy, Puppy and Senior varieties.
All fish used in our products are from sustainable sources including Norwegian Salmon and North Atlantic white fish.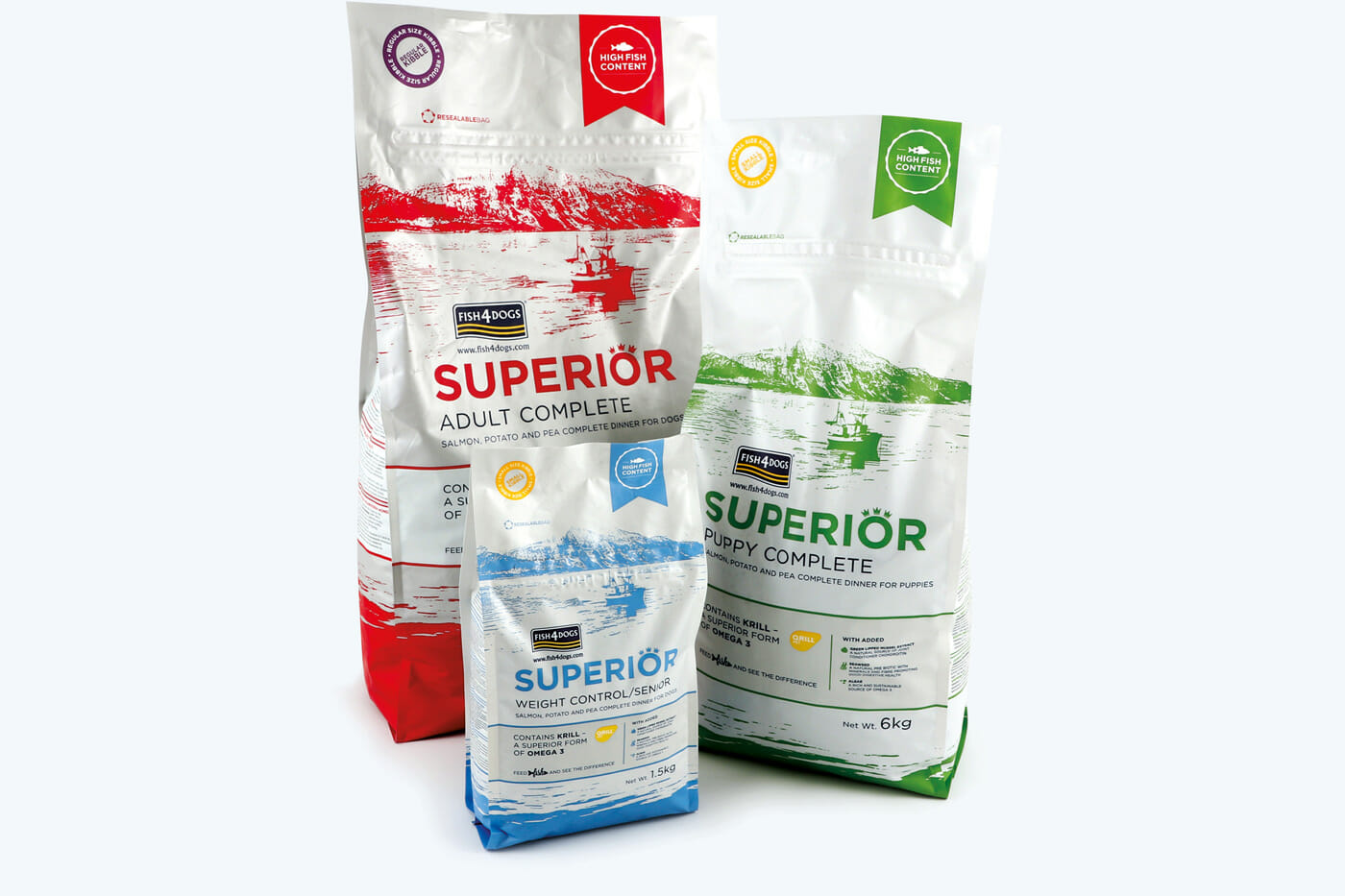 SUPERIOR RANGE
COMPLETE FOODS
Our Superior Range of foods are enhanced with a select few marine nutritional supplements: Green Lipped Mussels, Norwegian Kelp and Spirulina and Krill – a superior form of omega 3.
Superior foods contain added pre-biotic fibres and natural minerals from Norwegian seaweed meal, promoting good digestive health.
TREATS
Fish4Dogs treats are designed for dog owners looking for something a little different. Our range of treats compliment a good feeding regime, in four customer-focussed categories – Dental, Training, Support+ and Love.
Using fish-based proteins, all our treats are delicious, gluten free and designed for owners wanting to avoid feeding treats with ingredients that may cause intolerances like: grain, chicken, beef, pork or lamb.
DENTAL RANGE
100% WHITE FISH SKIN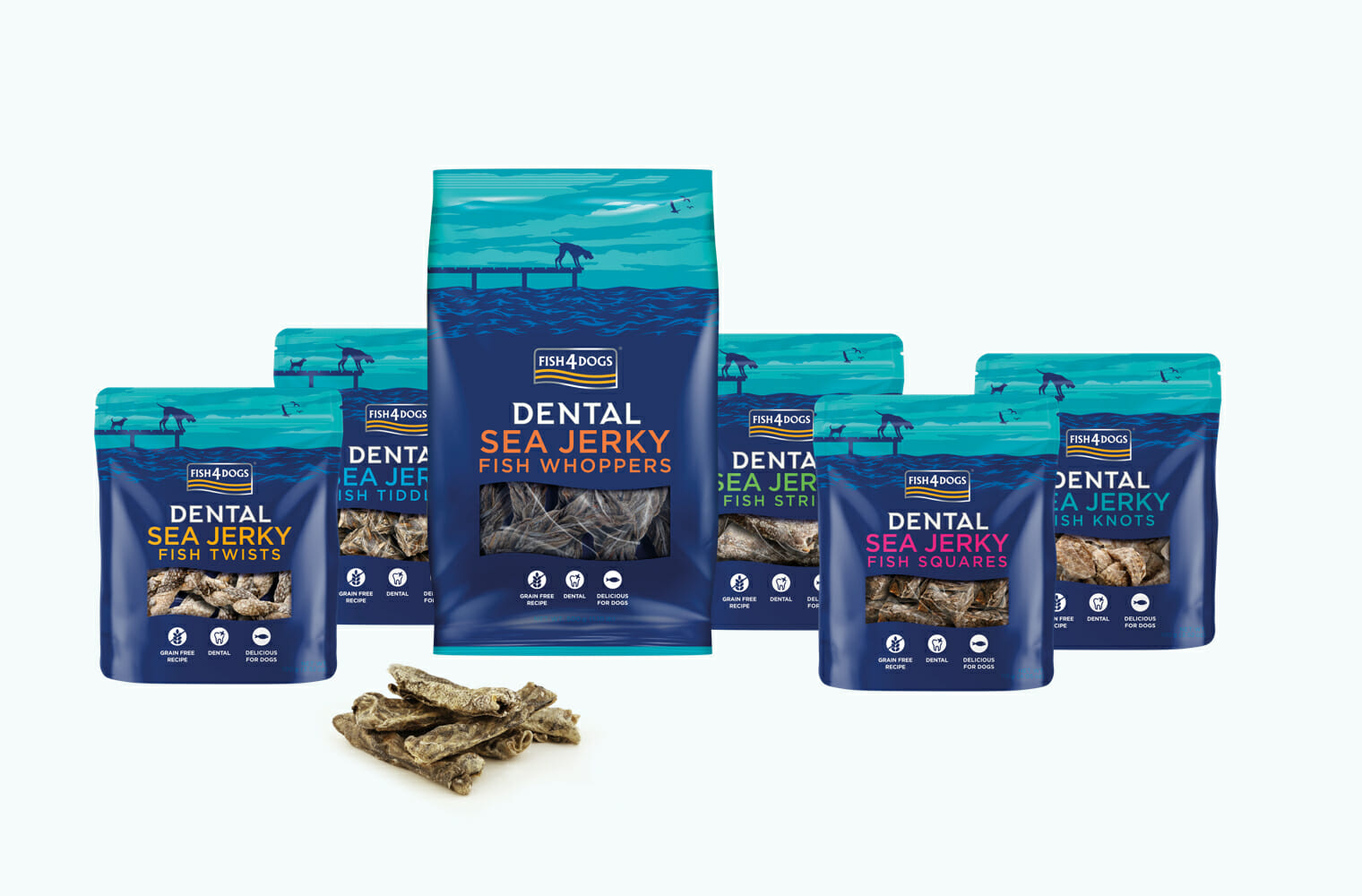 DENTAL RANGE
100% WHITE FISH SKIN
Dental is our range name for treats that can help support dog's dental health.
Within this range, are our crunchy Sea Jerky treats. Delicious 100% white fish skin treats that are naturally abrasive in texture, which can help with tartar on teeth.
TRAINING RANGE
MOTIVATING & STIMULATING
TRAINING RANGE
MOTIVATING & STIMULATING
Training is our range of treats specifically designed to be stimulating and rewarding when working with your dog. Perfect for getting and keeping their attention.
We've taken size, smell and calories into consideration when designing these treats. So treats in this range can be used many times during a training session.
SUPPORT+
WITH BENEFICIAL INGREDIENTS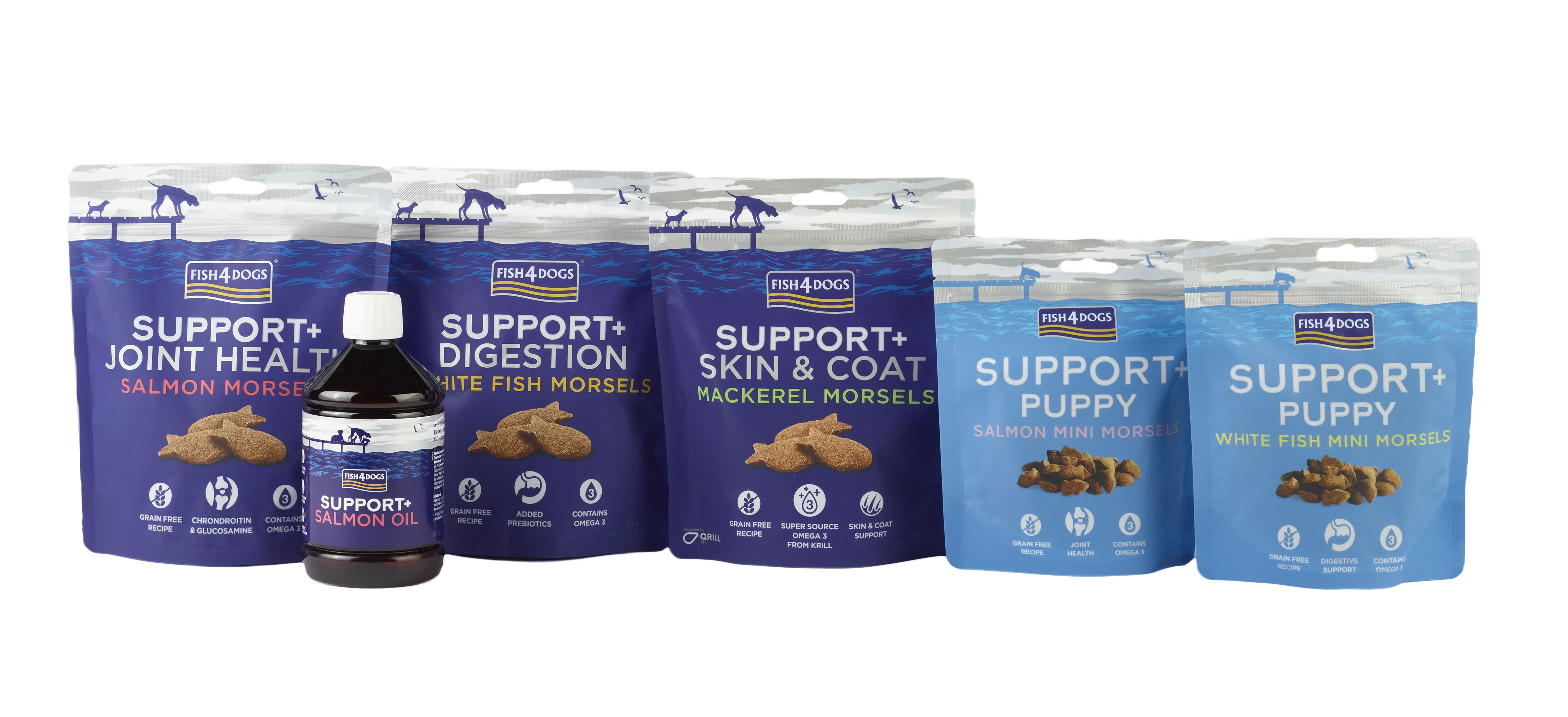 SUPPORT+
WITH BENEFICIAL INGREDIENTS
Designed to be more supporting, each treat is further enhanced with specific additives to help address common concerns and support general wellbeing.
These treats offer flavour choices and additional additives for popular health concerns. Delicious goodies with the feel-good factor.
LOVE RANGE
ALL DELICIOUSLY DIFFERENT AND GRAIN FREE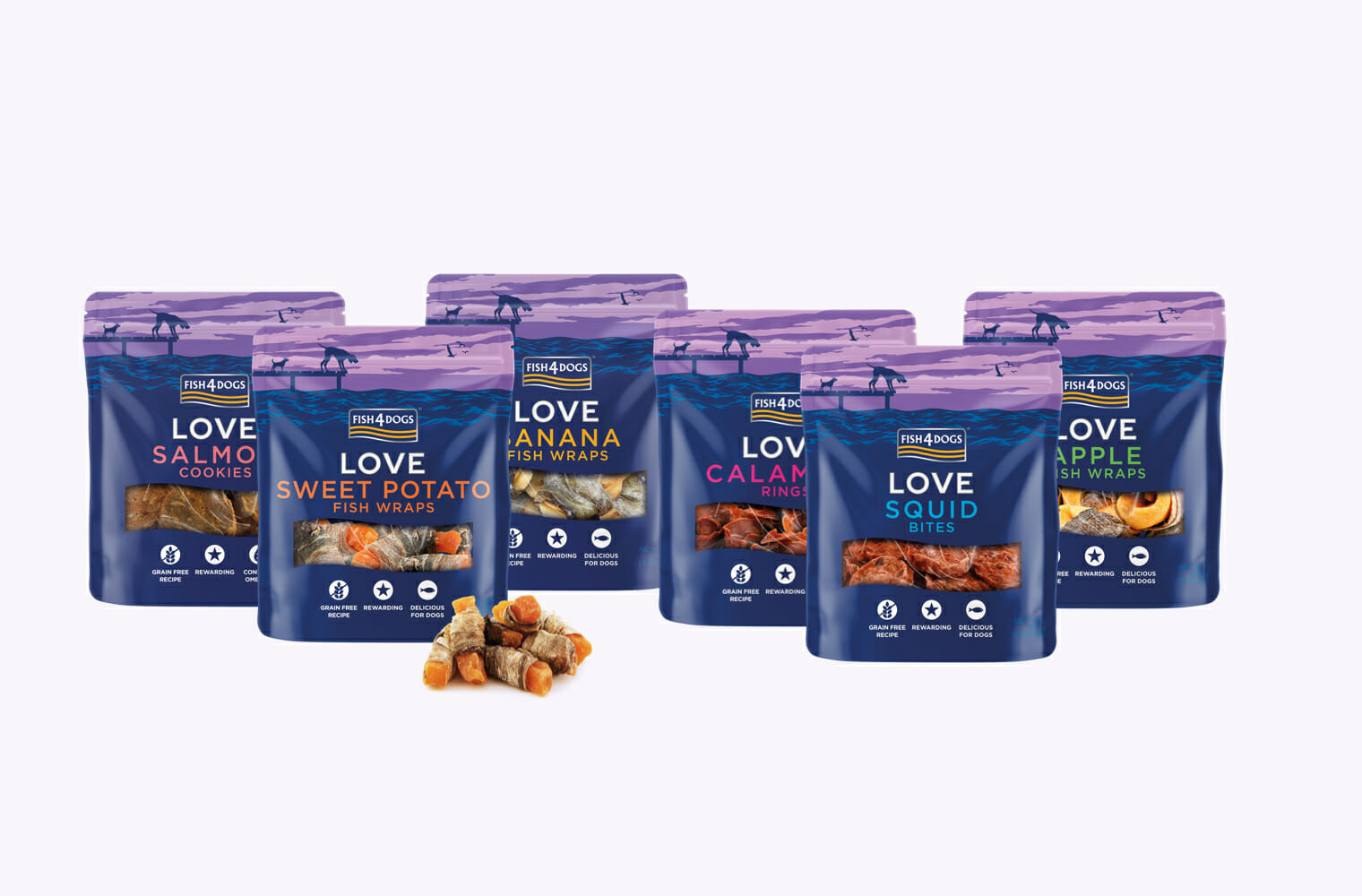 LOVE RANGE
ALL DELICIOUSLY DIFFERENT AND GRAIN FREE
Love is our range name for the treats we've designed to help you show your dog how much you adore them. Show your affection and recognition to your companion.
This range offers unique variety, including crunchy biscuit-style fish treats, a variety of tasty fish wraps and the more unusual, but equally delicious, dried squid discs.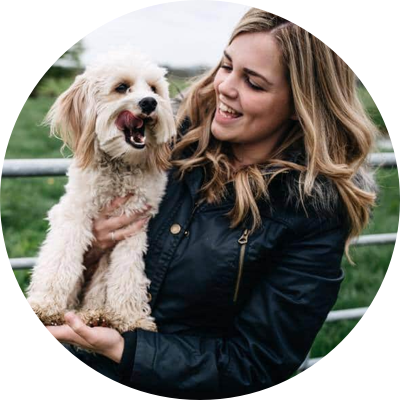 "Rolo has kept me positive by giving me company when we go for long walks. He has also absolutely loved me being at home and has just been a joy to be around more."
FRANKIE REECE, CUSTOMER SERVICE MANAGER